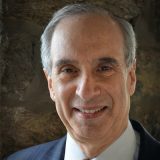 Jonathan Rosenbaum, PhD
(2018)
Jonathan Rosenbaum is President Emeritus and Professor Emeritus of Jewish Studies at Gratz College. Since 2009, he has also been a Visiting Scholar at the University of Pennsylvania.  A prominent researcher, administrator, rabbi, and consultant, Dr. Rosenbaum has received academic tenure at three institutions, held an endowed professorship, and pioneered online and on-campus academic programs. As a specialist in the ancient Near East and in Biblical studies, he has taught and published in those fields as well as in rabbinics, American Jewish history, and Jewish education.  Additionally, he has served as a deputy director of a major archaeological expedition in Israel.
Rosenbaum graduated from the University of Michigan (Phi Beta Kappa; summa cum laude) and earned a Ph.D. in Near Eastern Languages and Civilizations from Harvard University. He studied at Reform, Conservative, and Orthodox rabbinical institutions, earned rabbinical ordination, and occupies the rare position of having served congregations and been recognized as a rabbi in all of those streams of Judaism.
Rosenbaum's work provides a response to anti-Israel rhetoric and anti-Semitism by presenting the conclusions of current Biblical and Near Eastern scholarship. Utilizing archaeology, ancient inscriptions, histories, chronicles, coins, and Biblical and extra-Biblical texts inscriptions, he documents the historical reality of ancient Israel and Judah from the conquest of Canaan to the fall of the Second Temple. In doing so, he allows primary sources and rigorous, scholarly analysis to refute misconceptions, errors of fact, and falsifications often espoused by supporters of BDS and others who oppose Zionism and the State of Israel.