Israel Apartheid Week is set to begin Monday in more than 200 cities and universities worldwide
Israel's ambassador to France has written to the mayors of nine cities across the country urging them to ban Israel Apartheid Week events, scheduled to begin on Monday.
Ambassador Aliza Ben-Nun called on mayors to cancel events organized by the anti-Israel Boycott, Divestment and Sanctions (BDS) movement, the Foreign Ministry said Friday.
In her letter, first reported by Israel Radio, Ben-Nun noted that the boycott is prohibited under French law, and added that the events are likely to cause disturbances to public order, as well as incite hatred and violence towards Israel and France's Jewish community.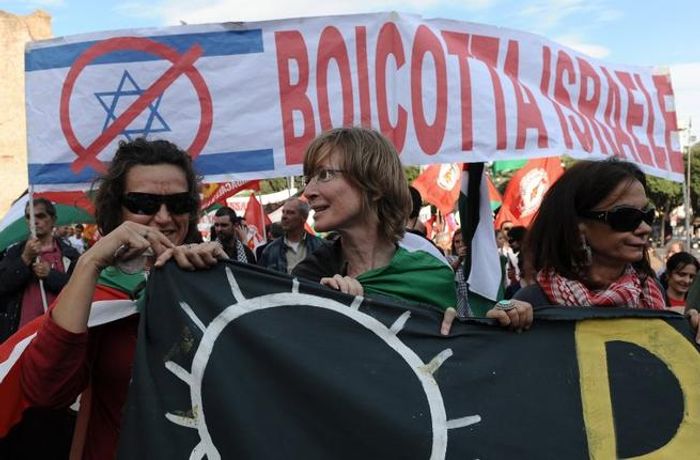 BDS protesters in Italy
AFP/Vincenzo Pinto
Israel Apartheid Week is set to hold events beginning Monday as part of an international initiative in more than 200 cities and universities worldwide.
In France, events are set to be held in Paris, Rennes, Toulouse, Montpellier, Lyon, Saint Étienne, Lille, Marseille and Grenoble.
Critics say the movement seeks to de-legitimize the State of Israel.
In Britain, several anti-Israel events were cancelled for violating the government's recently adopted definition of anti-Semitism, which includes denying the right of the Jewish people's self-determination, for example by claiming that the State of Israel's existence is a racist endeavor, or by drawing comparisons between Israeli policy to that of the Nazis.