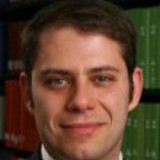 Professor Kontorovich teaches at Northwestern University School of Law, where he specializes in constitutional and international law. He is one of the world's preeminent experts on international jurisdiction and criminal law, and has been called on to advise lawyers in historic piracy trials around the world.
His scholarship has been published in leading academic journals and his expertise is often sought out and quoted by major news organizations such as The New York Times, Wall Street Journal, NPR News, Associated Press, LA Times, and numerous television and radio programs. Prof. Kontorovich's writings on Israel have appeared in the Wall Street Journal, Jerusalem Post, and numerous other publications. He is an internationally sough-after lecturer, and speaks frequently about the legal and historical aspects of the Israeli-Arab conflict at synagogues at universities across the country, such as Columbia, NYU, Berkley, Chicago, Georgetown, Michigan, and scores of others, as well as the Israeli Military Advocate General's International Law Department, Jewish Federations, CAMERA, the AJC, the ADL, and other groups.
He has been honored with a fellowship at the Institute for Advanced Study in Princeton, in 2011-12, and with the Federalist Society's prestigious Bator Award, given annually to a young scholar (under 40), for outstanding scholarship and teaching.
He attended the University of Chicago for college and law school, and ultimately taught there. After law school, he clerked for Judge Richard Posner on the United States Court of Appeals for the Seventh Circuit. In a previous career, he was a newspaperman at Wall Street Journal, the New York Post, and for many years at the Forward, where he reported from New York, Washington, Israel and Lebanon.