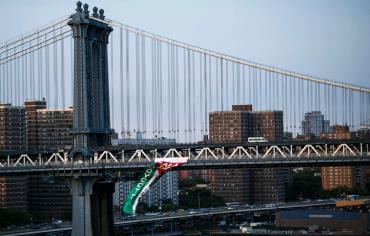 Hundreds New Yorkers staged a pro-Palestinian protest, march across Manhattan Bridge towards NYPD headquarters in downtown Manhattan on Tuesday and unfurled a massive Palestinian flag from the historic bridge.
Last month, at the height of Israel's Gaza offensive, thousands of people took to the streets of New York to demand an end to the violence.
Waving Palestinian flags and signs condemning Israel for the offensive, many called for an end to US aid to the country.
"We're trying to break the siege and end the killing in Palestine. We just want them to live like human beings," said Ramsey Jamal, 37, a Palestinian-American from Montgomery, New York who was at the July protest.
On his shoulders sat his 8-year-old son, Moses, who carried a placard reading: "Israel I'm just a kid. Please don't kill me," alongside marks resembling a child's bloody handprints.