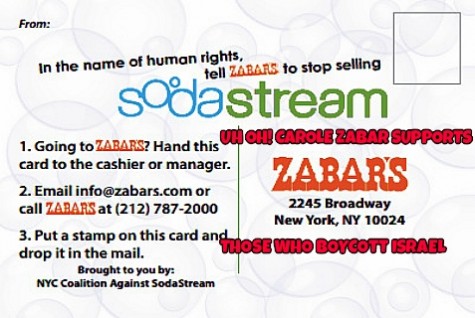 In one of the saddest dilemmas in a long time, those fighting the economic and legal warfare movement against Israel, known as BDS (Boycott of, Divestment from and Sanctions against Israel) are pondering how to deal with the proposed boycott of the famed Zabar's food emporium.
Adalah-NY, a hardcore pro-Arab terrorist boycott group posing as a civil rights organization, and its comrades in the BDS movement have called for a protest in front of Zabar's on April 22.
The protest is "to demand that Zabar's stop selling SodaStream." The protesters detest that product because one of its manufacturing plants is in Maale Adumin, a Jerusalem suburb. The SodaStream plant employs Arabs at the same salaries as its Israeli employees, and Palestinian Arab SodaStream workers have repeatedly stated they want the plant to remain there, or they will be unemployed or employed at lower salaries, in Arab-owned companies.
But the protesters could not care less about the economic reality of the Arabs they profess to care so much about. Adalah and its friends continue their boycott warfare regardless of its impact on Palestinian Arabs.
But here's the rub.
Carole Zabar is the wife of one of the brothers who currently owns Zabar's. And Carole is a strong supporter of the band of economic warriors who have just declared war on her husband's livelihood.
Richard Allen, founder of JCC Watch, reminds us that for many years in her position as a director of the Jewish Community Center in Manhattan, Zabar has been"hosting and promoting groups that call for a boycott of SodaStream, Ahava Cosmetic products and other Israeli companies."
Allen says he believes that Zabar used to be listed as a major contributor of Partners for a Progressive Israel, one of the organizations best known for pushing the SodaStream boycott. She certainly partnered with that group in her role as founder of the "Other Israeli Film Festival," the one that not only seeks to showcase Arabs in Israel, but frequently promotes the worst slanders against the Jewish State.
The Jewish Press called Zabar's on Sunday afternoon, April 20, to ask if the people running the food emporium are aware of the boycott threat.
"Yes," they said, they are "aware of the boycott."
When asked whether or not Zabar's is continuing to sell the SodaStream product despite the boycott, the answer was a slightly defiant "yes."
It will be amusing to see whether Ms. Zabar is going to join with her idealogical compatriots and boycott Zabar's on Tuesday, April 22 (that's Earth Day, for the boycott folks, although for us Jews in the Diaspora it is the last day of Passover.)
About the Author: Lori Lowenthal Marcus is the US correspondent for The Jewish Press. She is a recovered lawyer who previously practiced First Amendment law and taught in Philadelphia-area graduate and law schools.