Israel won a symbolic victory against the Boycott, Divestment and Sanctions (BDS) movement when the Spanish government recently paid NIS 430,000 in compensation to Ariel University in the West Bank. The compensation was for an incident in which 15 architecture students were barred from an international competition sponsored by the Spanish Housing Ministry because they came "from the occupied territories".
The payment brought an end to a five-year legal struggle led by the university. The saga began in 2009, when the Ariel University team advanced to become one of 21 finalists in a competition for designing an environmentally-friendly home. The team's project received an enthusiastic response – in fact, Spain's housing minister came to see the model house for herself.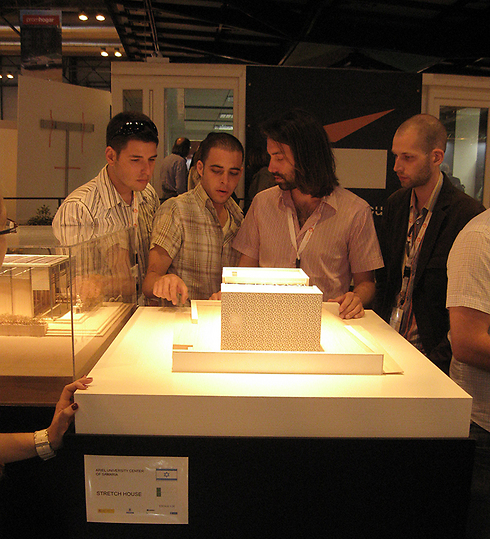 Ariel University students present their project in Madrid
Behind the scenes, though, the BDS movement was applying heavy pressure on authorities to disqualify the Israelis because they came from West Bank settlements, resulting in an announcement that the Ariel University team was withdrawing from the competition.
Concerned about the decision setting a precedent, the university launched a legal battle, presenting Spain's Housing Ministry with two demands: cancelling the decision to boot the Ariel delegation from the competition, and paying €230,000 in compensation to the university.
The Spanish Housing Ministry sought to reject the Israeli suit outright, claiming its decision had received backing from Spain's Foreign Ministry. Spain's National Court decided in 2013 to deny the Housing Ministry's request, ordering it to consider paying compensation.
Meanwhile, the Spanish Housing Ministry turned to Spain's Foreign Ministry with a request for written proof that Ariel University was forbidden from participating because of its location. The Ministry replied that it had no such proof.
The Housing Ministry thus decided to reconsider its stance.
In March 2014, it said in an official statement that "Ariel University was treated unequally in comparison with other contest participants, allegedly because of the European Union's position regarding the 'occupied territories' and without clarifying how the 'occupied territories' might affect the competition. Therefore, the decision to disqualify Ariel University has no legal basis and is unjustified. It is a violation of the fundamental right to equality included in Article 14 of the constitution, as the decision to disqualify the university contradicts Ariel University's right to equality in the competition. The faulty decision-making regarding disqualifying Ariel University from the competition makes the decision null and void."
Ariel University decided to accept the Spanish Housing Ministry's proposal for compensation, bringing an end to the affair. University Chancellor Yigal Cohen-Orgad said resolution of the case proved that efforts by BDS can be overcome.
"We went to court so as not to set a precedent," he said. "It was the first, and fortunately the only, time we were disqualified from a competition anywhere in the world. There were unsuccessful attempts in the past and we thought we had to put up a fight."