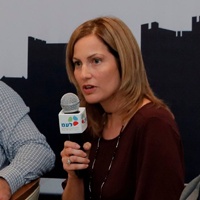 Tamar Sternthal, director of CAMERA's Israel Office, joined the organization in 1999 at the Boston headquarters. She regularly communicates with editors at major media outlets such as the Los Angeles Times, New York Times, CNN, NBC, CBS, Reuters, and the Associated Press and has elicited hundreds of substantive corrections in print and on the air. Since opening CAMERA's Israel office in 2004, Sternthal has also monitored the English-language Israeli daily Haaretz, which is highly influential among Western journalists, along with other English-language Israeli outlets. In 2018, she was responsible for founding CAMERA Arabic, which she manages.
Formerly the Associate Editor of the Jewish Advocate of Boston, Sternthal reported on issues of concern for the Boston Jewish community. Previously, she served as a Research Development Associate at the Canadian Institute for Jewish Research (CIJR) in Montreal.
As an undergraduate at McGill University in Montreal, Sternthal first encountered problems of media bias with respect to Israel while she reported for the McGill Daily. Her columns have appeared in media outlets in America and Israel, including the Philadelphia Daily News, St. Petersburg Times, the Florida Jewish Journal, Gatestone Institute, the Jewish Journal of Greater Los Angeles, the Times of Israel, The Algemeiner, the Jerusalem Post, and Ynet. Her radio interviews include the Voice of Israel, Galei Yisrael and Radio Yerushalayim.