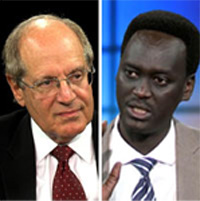 Listen to a modern day abolitionist (Dr. Charles Jacobs) and an escaped Sudanese slave (Francis Buk) on Why Black Slaves Lives Don't Matter.
Francis Piol Biol Buk is an escaped Sudanese slave and modern-day abolitionist. He played an instrumental role in convincing the United States government to push for a peace agreement which ended Sudan's second civil war (1983 – 2005) and provided for South Sudan's 2011 referendum on independence.
For 10 years, Buk was the property of an Arab master — he slept with animals and endured grueling labor, constant beatings, humiliation, racial abuse, and was forcibly converted to Islam. He was given the Muslim name Abd ar-Rahman and was taunted as abid, a "black slave."
After two failed attempts, one of which very nearly cost him his life, Francis escaped in December of 1996 and finally made his way to America in 1999 as a refugee via Khartoum, and then Cairo.
Buk was the first escaped slave to testify before the United States Senate Foreign Relations Committee. He met with President George W. Bush, Madeleine Albright, Condoleezza Rice, and many other American leaders, educating them about the plight of modern-day slaves. He was honored by the U.S. Olympic Committee and the Boston Celtics. He spoke alongside the late Coretta Scott King, widow of Dr. Martin Luther King, Jr., at the Boston Freedom Award ceremony honoring the AASG in 2000, headlined a panel discussion on slavery at Harvard's Kennedy School of Government, and has spoken at Harvard Law School.
Buk's autobiography, Escape from Slavery, published by St. Martin's Press in 2003, received wide critical acclaim.
Charles Jacobs
Dr. Charles Jacobs is a journalist and long-time social activist whose pro-Israel efforts resulted in his being named once by The Forward as one of America's top 50 Jewish leaders.
In addition to co-founding the Boston branch of CAMERA in 1989, which became the organizations' national headquarters, he co-founded The David Project which prepared Jewish high school students in over 100 schools