Speaking before some 300 students at Columbia University in New York on Monday evening, Danny Danon's lecture was disrupted after crowds of BDS activists assembled outside and barged their way in, before drowning his statements to the chants of 'Free Palestine'; Danon: 'We will not be quiet in the face of lies that you spread about Israel.'
Carrying signs urging boycotts against Israel, the vociferous activists drowned Danon's speech to the chants of "Free Palestine, from the river to the sea," "Israel is a terrorist state" and "Israel has no right to exist," and the like.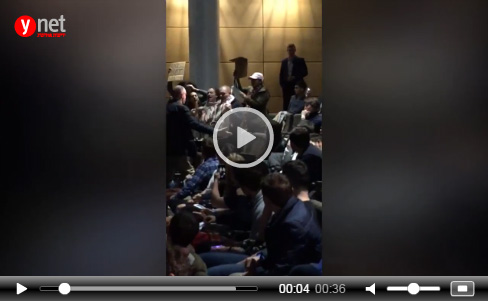 About 100 activists assembled outside the lecture theater while screaming slogans against Danon, against Israel and against the immigration policies of President Trump.
Shortly thereafter, they barged their way into the theater to prevent it from going ahead.
In light of the calls of incitement from the activists, Danon turned to the student agitators directly.
Danon then invited the activists to listen to his lecture. "Instead of inciting and lying, sit in the seats and maybe you will learn something."
He went on to say that the slogans espoused by the students represented the same problems endemic to the Palestinian people.
"This is precisely the problem of the Palestinians. They lie, incite and don't recognize Israel's right to exist. But I have an announcement for those students—The people of Israel will never leave the Land of Israel," Danon said to the sounds of a rapturous applause by pro-Israel students and neutral members of the audience.
Throughout the attempts to muffle his lecture, the pro-Israel students responded with their own booing against the hostile BDS crowd, before the latter were duly removed and distanced from the lecture theater.
Once the tensions had been abated, Danon addressed the distortion of facts prevailing in the UN, manifested most conspicuously by countless anti-Israel resolutions adopted by its members.
"With the help of the new administration in the US we will see a new era in the UN, an era in which Israel receives fair treatment like all countries in the world."